Other Sweetwater Products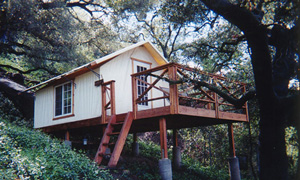 Sweetwater Bungalows, with their innovative design and framework, are unique to the market of prefabricated and semi-permanent shelters. These structures combine the stability and protection of a wood frame with the lightness and beauty of fabric walls. Natural ambient light bathes the interior of the Bungalow during day, and by night, each structure glows with romantic tranquility. Together with windows and a door, a cozy Bungalow is created. Weather-tight, durable and affordable (from $25 per sq. ft. not including the platform), Sweetwater Bungalows bring you closer to nature.
Sweetwater Bungalows has a collection of four different Bungalow kits, each with their own unique features and style. Offered in three sizes (10x12, 12x14 & 14x20), these multi-purpose structures are an affordable, versatile and attractive solution to increasing your living space needs.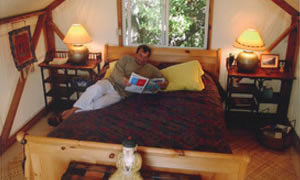 Developed with nature in mind, the Bungalow allows you to experience the pleasures of the outdoors in a truly comfortable environment. A perfect place for reflection, it becomes the ideal yoga retreat, unique studio space, or unforgettable backyard guest room for relatives and friends. The uses and possibilities are endless, sometimes creating that special retreat can be as close as your own backyard.
Visit our website at www.sweetwaterbungalows.com for more detailed information on our products as well as a vivid gallery of Bungalow photos.